Description and Application:
DOS is a transparent oily liquid without visible impurities.
It is a good cold resistance plasticizer. It offers good plasticizing effect, low volatility, heat resistance, good light resistance and insulation capacity. It can be used in PVC, PE, cellulose nitrate, ethyl cellulose and synthetic rubber, especially for those cold resistant materials, like cable, films, board and sheets. It has no effects on vulcanization in rubber.
Specification: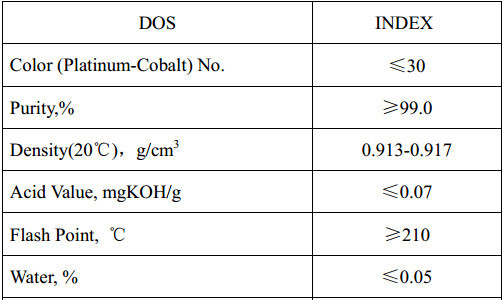 Packages:
1.In new iron drum,190kgs net weight per drum,15.2mts in 20ft container
2.In 1000L tote,950kgs net weight per tote,19mts in 20ft container
3.In ISO-tank or Flexibag,20mts net weight
Storage:
Store DOS inside warehouse whre is dry place and keep containers right close when not in used.